Educator Passport iPhone, Android & Web App
Wave worked with Chisholm Institute, a government-owned TAFE, to develop the Educator Passport App to support Chisholm's commitment to building educational excellence within its workforce. The app enables Educators to plan, view and track their professional development. Educators can seamlessly browse and register for programs based on their capability requirements, identified through completion of a profiling tool in the app. Wave Digital also built a web app to enable the administration of the mobile apps, including user and content management, permissions and reporting. The app is extensible and flexible enough to ensure the best possible experience for students and industry across a Government workforce at State and National level.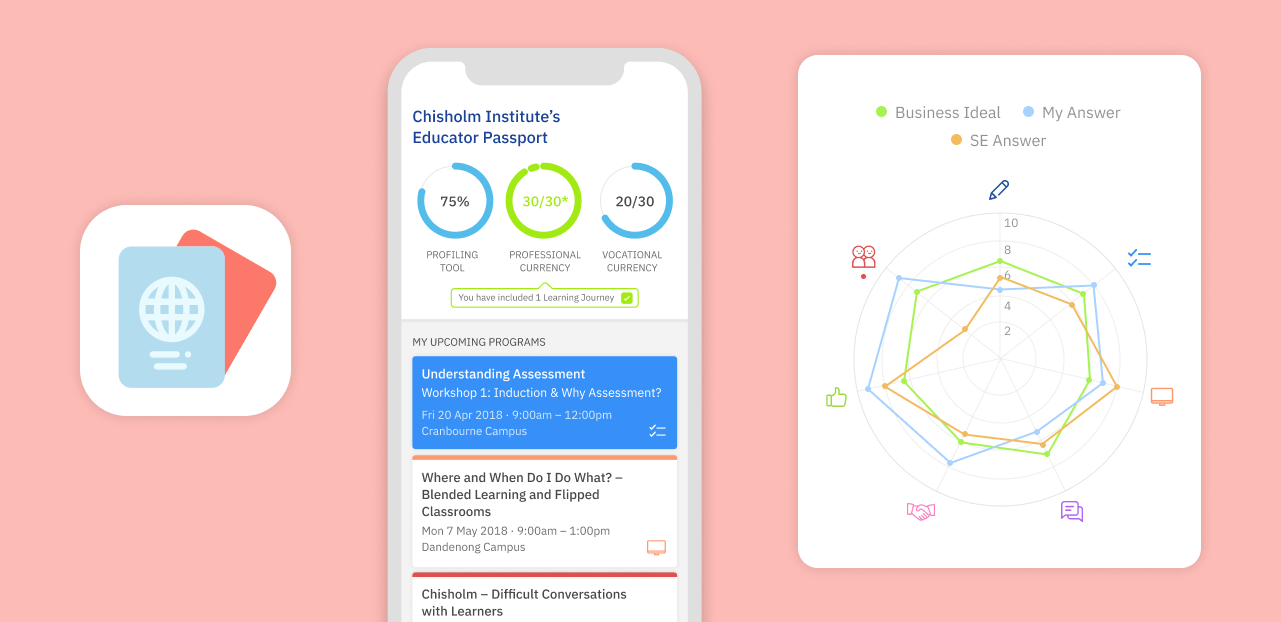 "It was a delight to work with Wave Digital to scope and develop Chisholm's Educator Passport App. This app was the first of its kind in Australia and is currently being rolled out to over 2,000 TAFE educators in 2018. Over the next 12 months we plan to provide the solution nationally across the Vocational Education and Training sector. The ability of Wave Digital to provide leadership and advice during the scoping and development stages was highly useful and valued."
Brad Beach, Manager – Professional Educator College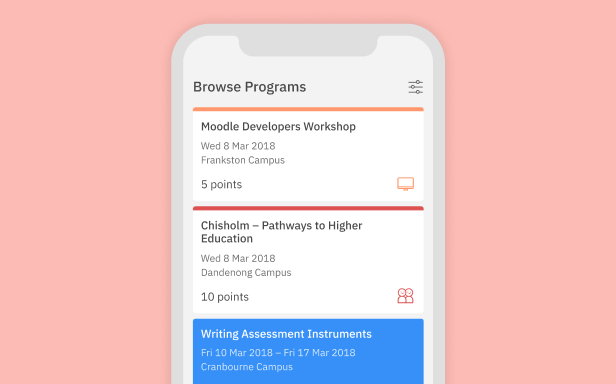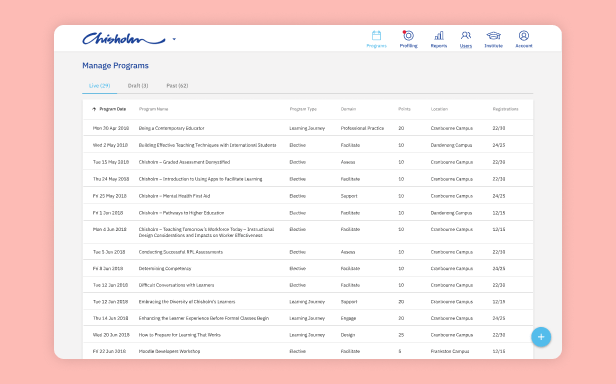 Chisholm Institute approached Wave Digital with a completed set of mobile app wireframes. Following a discussion about their needs, we were able to advise them that while the mobile app would have more users, an admin web app was necessary to achieve their goals and would also contribute to the bulk of their app development cost. We worked with Chisholm to define the requirements for a web app, its users and their workflows and focused on ensuring the experience of mobile users and the admin area were seamlessly interlinked. We also provided strategic advice on the future scalability of the product to other institutions in the sector.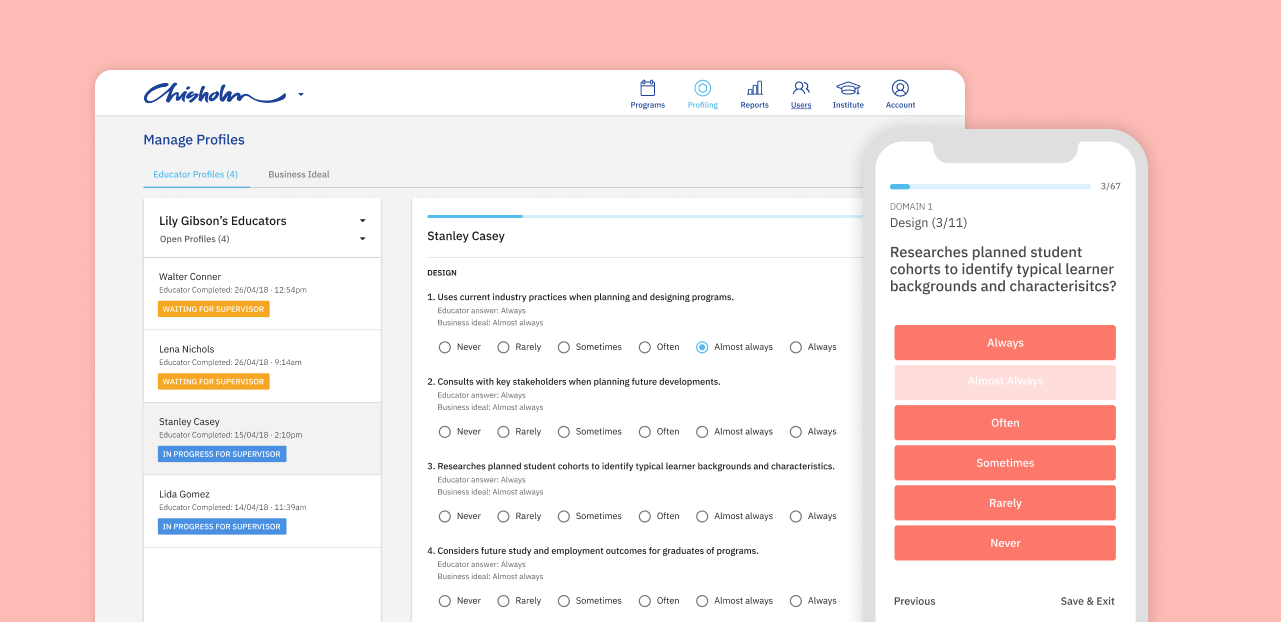 This project was not just about creating a useful and engaging app for Educators, it was also about creating a seamless and fully featured experience for Administrators to support the app and their educators. There were many distinct user goals and experiences for Educators, Supervisors, and Administrators that needed to be explored separately and thoroughly during the design phase. Although each had their unique problems and behaviours, we produced a cohesive product that is flexible enough to be rolled-out to other institutions around the country.
The visual interface provides a clear and personalised experience for Educators and allows institute's to customise individual UI elements to align with their brand. Colour is largely used communicatively instead of being used for branding, and is paired with custom iconography and illustration to really create an experience that users are excited to come back to.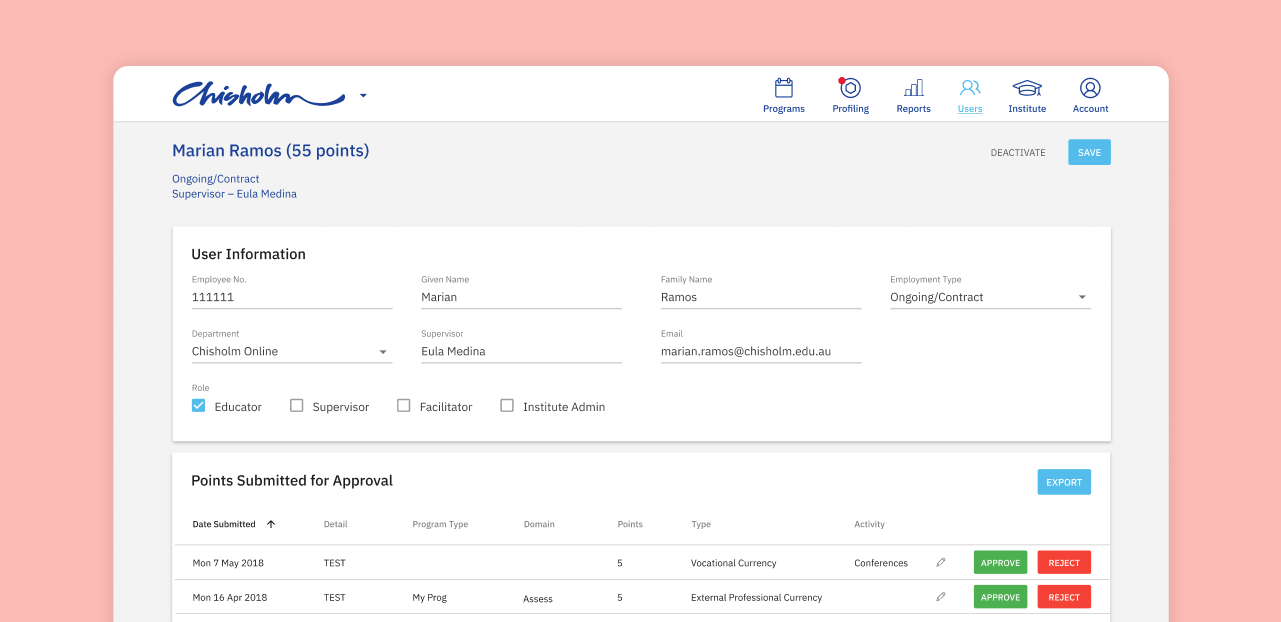 We chose to develop the mobile app in React Native technology which enabled the delivery of both an iPhone app and Android app concurrently. This allowed us to adhere to tight timeframes, without impacting the experience. We developed the web app using React to provide Chisholm with maximum flexibility to incorporate future requirements associated with commercialising the product. Towards the end of the project, this became a reality, with the Educator Passport App now being used by four other TAFEs – TAFE Gippsland, Sunraysia Institute, Bendigo Kangan Institute and The Gordon.
In June 2020, the National Centre for Vocational Education Research (NCVER) released a good practice guide citing the Chisholm Institute's Educator Passport App as one of the few Australian-made self-assessment tools available to TAFE educators enabling them to assess and monitor their professional development needs, including digital skills.