Les Verbes iPhone & Android App
Wave Digital created, designed and developed the Les Verbes iPhone and Android app. The app is targeted at intermediate French language learners (which includes Wave Digital Managing Director, Guy Cooper) who know the basics but struggle to find the right conjugation quickly, especially during conversation. The app includes a short daily quiz to test your knowledge, allows users to track weekly progress and includes daily reminders. You can download the Les Verbes app from the Apple App store and the Google Play store.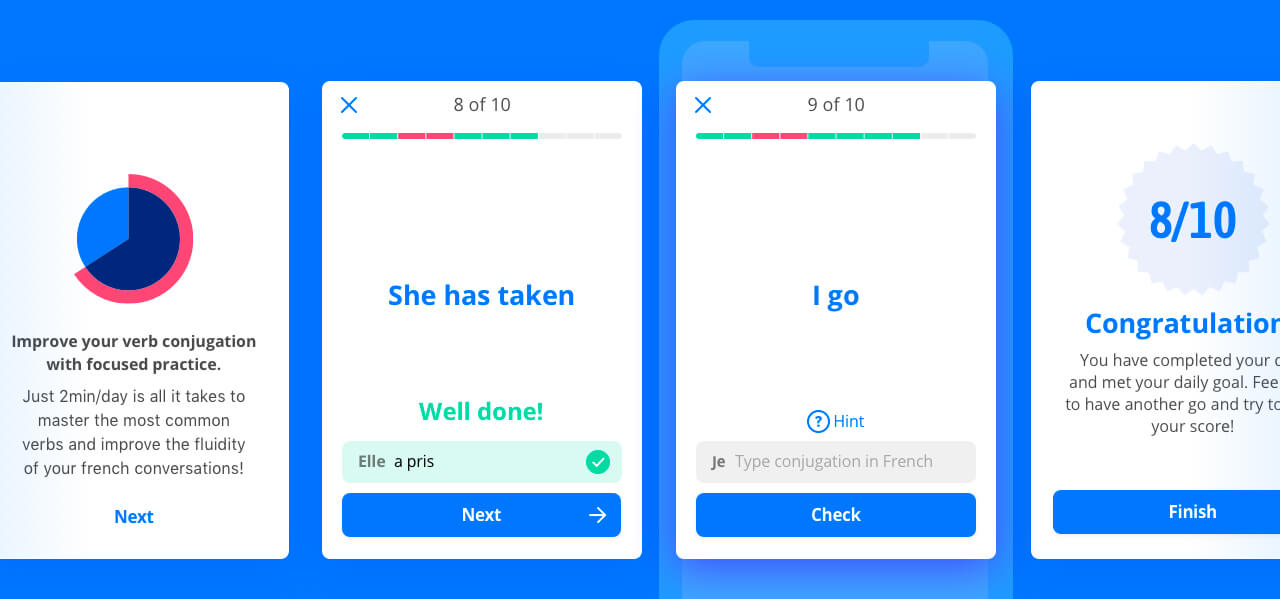 "I'm really excited to get this out to the people that I teach and the people in my groups. I have already asked some people to have a go at it, and they have said 'Oh my gosh it's amazing'. The feedback from this is really positive. Congratulations on a fantastic app!"
– Christine Camm, Simply French Online
"Les Verbes is a free app and is a worthwhile addition to the language learning folder of anyone who is seeking to improve their knowledge of french verbs and feels they would benefit from a brief daily verb drill."
– iphoneappreview.com
"I am a French teacher and my students are using Les Verbes. It is a playful and educational app that drills in a difficult concept for English speakers: the French verbs conjugation! I think it is highly efficient."
– Google 5 Star review for Wave Digital App Development
The Les Verbes app was created to solve a specific problem in French language learning – verb conjugation. Managing Director, Guy Cooper, developed the idea for the app when he continued to struggle to find the appropriate verb conjugation quickly during weekly french conversation lessons. Guy researched the market for french language products that could help. He also wanted something that would fit within his lifestyle – that could be used for a few minutes each day around work and family. The outcome of this research was that existing french verb conjugation products focused on verb tables and basic rote learning. He also identified apps – for example, Duolingo – that used a short quiz to test knowledge in a more natural, random way. This benchmarking informed the design of the Les Verbes app.
Les Verbes was developed with an iterative app development process in mind. Using the same approach as a startup, Les Verbes has been released with a minimum level of functionality and features to solve the problem and gather user feedback. A survey is embedded within the app to facilitate this process. The app has been released with a list of 30 verbs in three tenses to test with users. Verbs and tenses will be increased for future versions, following user feedback. The Wave Digital team has also started investigating voice recognition and smart watch capability.
To minimise app development time and future maintenance costs, the Wave Digital team used React Native to build the app. This enabled the early release of an iPhone app and then only minimal effort to finalise an Android app.