Guideline Host app places treatment guidelines at point of care
17 May 2023
Guideline Host app places treatment guidelines at point of care
Treatment guidelines are an important tool to assist healthcare practitioners in choosing the best treatments for their patients. Practitioners in low-resource settings around the world face challenges in accessing the information they need – but this is changing with the help of a mobile app.
Guideline Host is a mobile app that places locally developed and endorsed guidelines within fast, easy reach for practitioners right where and when it's needed – at the point-of-care.
The Australian-based Therapeutic Guidelines – a source of independent, evidence-based, practical treatment advice to assist practitioners with decision making – works in partnership with ministries of health in Fiji, Solomon Islands, and Vanuatu to deliver local Guideline Host mobile apps.
Therapeutic Guidelines supports Guideline Host through its Partnership Program, which works with government bodies, universities, and other local and international organisations to support and build local capacity in guideline development and implementation, and other quality use of medicine activities.
While many countries have their own standard treatment guidelines, healthcare practitioners face barriers to accessing these at the point-of-care. 
Guidelines are often published in the form of hard copy books, which can be costly to print and distribute to remote settings, making it difficult for practitioners to access them at the point-of-care.
When discussing barriers to the use of local treatment guidelines, people in Therapeutic Guidelines' partner countries often mentioned that electronic access via mobile devices would address a huge gap in the accessibility of guidelines, their distribution, and ultimately use.
Therapeutic Guidelines worked closely with key people from Fiji, Solomon Islands, and Vanuatu leading up to and during development of the respective Guideline Host apps. Wave Digital supported Therapeutic Guidelines in building and customising each country's local Guideline Host app. 
There are now three apps in use including Fiji Guideline Host, Solomon Islands Guideline Host, and Vanuatu Guideline Host. Content and design decisions are made by the ministry of health in each country. Each app contains locally developed standard treatment guidelines, and sometimes other locally-endorsed guidelines including those published by the World Health Organization.
The Guideline Host apps are now used by healthcare practitioners in Fiji, Solomon Islands, and Vanuatu such as doctors, nurses, midwives, pharmacists, dentists, allied health, and other practitioners.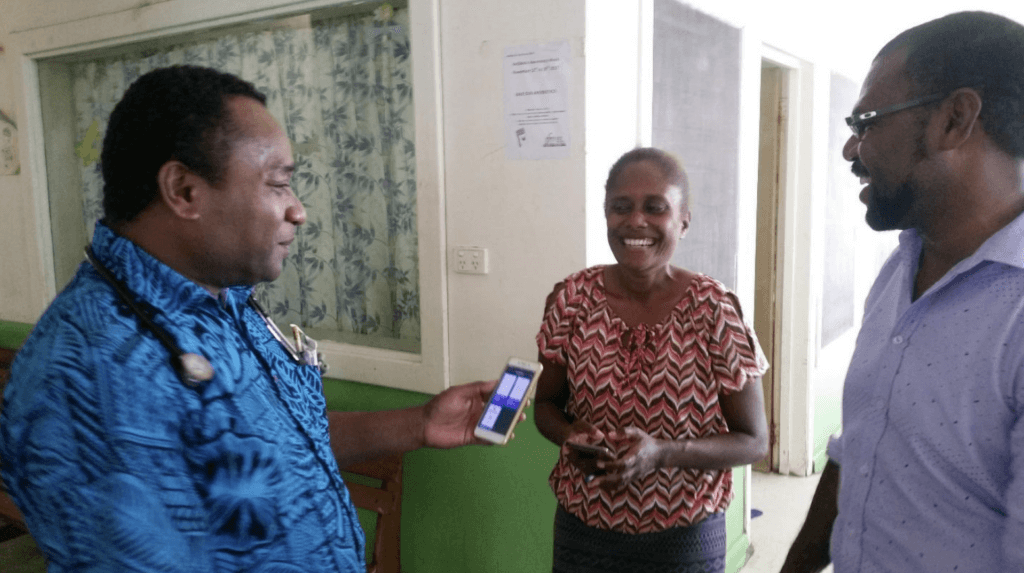 Fiji Guideline Host and Solomon Islands Guideline Host were launched in 2018, followed by Vanuatu Guideline Host in 2020. The three apps have been downloaded 8,800 times to date, with hundreds of daily views. 
Here's what two health practitioners have to say about Guideline Host:
"Having access to multiple local treatment guidelines on one's phone anytime improves the efficiency and effectiveness by which a Solomon Islands health worker can treat their patients and thus improve the quality of care they provide." 

–Dr Rooney Jagilly, (then) Medical Superintendent, National Referral Hospital, Solomon Islands
"For the use of the app, it has been a very positive development. I have used it very frequently both for patient treatment and reference in nursing/doctor training. It's the most affordable and easy access option for all the doctors, nurses and the Ministry of Health."

–Dr Titus Nasi, Head of Paediatrics, National Referral Hospital, Solomon Islands
"It's been really gratifying to see health practitioners using the Guideline Host apps in their day-to-day practice, and to hear that senior clinicians are using the app when delivering training," says Mieke Hutchinson-Kern, Partnership Program Manager at Therapeutic Guidelines.
"It's also gratifying to get requests from everyday users to add new resources to the apps, as they find it an easy way to access information."
Guideline Host apps are available on Apple App store and Google Play. To learn more about Therapeutic Guidelines visit www.tg.org.au.
Contact us
Are you looking to build an app? Reach out, we'd love to hear from you.